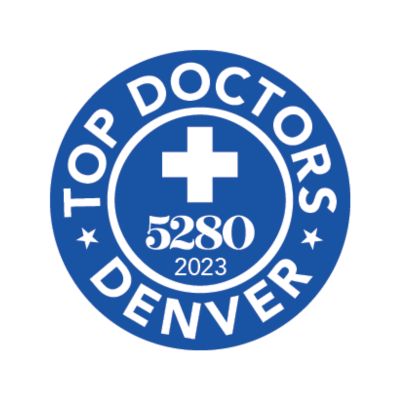 In the recently published list of top doctors for 2023 by Denver-area publication 5280 Magazine, University of Colorado School of Medicine and CU Medicine providers have once again demonstrated their exceptional expertise and dedication
CU Medicine is thrilled to announce that 221 University of Colorado School of Medicine providers made the "Top Doctors" list this year.
Compiled from a comprehensive survey of Denver-area physicians, the rankings reflect the trust and esteem of their peers, who were asked to identify the healthcare professionals they would personally entrust with the care of themselves or their loved ones. This year's distinguished list encompasses a total of 666 exceptional doctors across 65 specialties.
The following University of Colorado School of Medicine providers were named in the 5280 Magazine Top Doctors list:
Addiction Medicine
---
Adolescent Medicine
Kathryn Love-Osborne, MD
---

Allergy & Immunology

Flavia Hoyte, MD

---

Cardiovascular Disease

Gregory Schwartz, MD, PhD

Howard Weinberger, MD

---

Child & Adolescent Psychiatry

Christian Thurstone, MD

---

Clinical Cardiac Electrophysiology

---

Clinical Genetics & Genomics

---

Colon & Rectal Surgery

---

Complex Pediatric Otolaryngology

---

Dermatology

---

Developmental-Behavioral Pediatrics

---

Emergency Medicine

Marian Betz, MD, MPH

---

Endocrinology, Diabetes & Metabolism

Daniel Bessesen, MD
---
Family Medicine
---
Gastroenterology
---
Geriatric Medicine
Robin Yasui, MD
---
Gynecologic Oncology
---
Hematology
---
Hospice and Palliative Medicine
---
Infectious Disease
Robert Belknap, MD
Gwen Huitt, MD
---
Internal Medicine
Sarah Christensen, MD
Philip Mehler, MD
---
Interventional & Diagnostic Radiology
David Lynch, MD
---
Interventional Cardiology
---
Maternal & Fetal Medicine
---
Medical Oncology
Laurie Carr, MD
---
Neonatal-Perinatal Medicine
---
Nephrology
---
Neurological Surgery
Kathryn Beauchamp, MD
Samy Youssef, MD, PhD, MSc, FAANS
---
Neurology
---
Neurology (Special Qualifications in Child Neurology)
---
Neuroradiology
---
Obstetrics & Gynecology
---
Occupational Medicine
Cecile Rose, MD, MPH
---
Ophthalmology
Michael Erlanger, MD
---
Orthopedic Surgery
---
Otolaryngology
Soham Roy, MD
---
Pathology
Steve Groshong, MD
---
Pediatric Allergy & Immunology
Mark Boguniewicz, MD
---
Pediatric Cardiology
---
Pediatric Critical Care Medicine
---
Pediatric Endocrinology
---
Pediatric Gastroenterology
---
Pediatric Hematology-Oncology
---
Pediatric Infectious Disease
Sarah Parker, MD
---
Pediatric Nephrology
---
Pediatric Pulmonology
James, Olin, MD
---
Pediatric Rheumatology
---
Pediatric Surgery
---
Pediatric Urology
---
Pediatrics
Matthew Daley, MD
---
Physical Medicine & Rehabilitation
---
Plastic Surgery
---
Plastic Surgery (Within the Head and Neck)
---
Psychiatry
Ann Olincy, MD, MPH/MSPH
---
Pulmonary Disease
Kevin Brown, MD
Charles Daley, MD
Ivor Douglas, MD
Jeffrey Kern, MD
Teofilo Lee-Chiong, MD
Barry Make, MD
Milene Saavedra, MD
Jennifer Taylor-Cousar, MD, MSCS
Michael Wechsler, MD
---
Radiation Oncology
---
Reproductive Endocrinology & Infertility
---
Rheumatology
---
Sports Medicine
---
Surgery
Ernest Moore, MD
---
Surgery of the Hand
---
Thoracic & Cardiac Surgery
---
Urology
---
Vascular Surgery