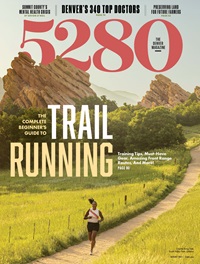 We are honored to share that over 100 University of Colorado School of Medicine providers were named to 5280 Magazine's list of Top Doctors for 2021. We appreciate all of of these hard-working physicians who provide expert care for our patients every day at CU Medicine clinics and at our partner hospitals and facilities.
For nearly 30 years, 5280 Magazine has asked physicians in the Denver area who they would trust to treat themselves or a loved one. Below are all the CU School of Medicine doctors that were nominated, categorized by specialty.

Congratulations to those that made the list!
Adolescent Medicine
Nicholas Kyriazi
Addiction Medicine and Addiction Psychiatry
Adult Congenital Heart Disease
Advanced Heart Failure and Transplant Cardiology
Anesthesiology
Alan Bielsky

Benjamin Lippert
Child Abuse Pediatrics
Child and Adolescent Psychiatry
Child Neurology
Clinical Genetics and Genomics
Colon and Rectal Surgery
Complex General Surgical Oncology
Dermatology
Harvey Arbuckle

Anna Bruckner
Developmental-Behavioral Pediatrics
Emergency Medicine
Endocrinology, Diabetes, and Metabolism
Geriatric Psychiatry
Hematology
Hospice and Palliative Medicine
Infectious Disease
Internal Medicine
Interventional Cardiology
Medical Oncology
Neonatal-Perinatal Medicine
John Britton St. Joseph
Nephrology
Neurodevelopmental Disabilities
Neurology
Neurosurgery
Neurotology
Obstetrics and Gynecology
Orthopedics
Otolaryngology
Pediatric Cardiology
David Miller
Pediatric Critical Care Medicine
Pediatric Emergency Medicine
Pediatric Endocrinology
Aristides Maniatis
Pediatric Gastroenterology
Pediatric Hematology and Oncology
Pediatric Hospital Medicine
Lee Engelbreth
Sarah Morse
Pediatric Infectious Disease
Pediatric Nephrology
Melissa Cadnapaphornchai
Pediatric Pathology
Pediatric Pulmonology
Pediatric Rehabilitation Medicine
Pediatric Rheumatology
Pediatric Surgery
David Partrick
Pediatric Transplant Hepatology
Pediatric Urology
Job Chacko
Peter Furness III
Pediatrics
Amy Pierce
Physical Medicine and Rehabilitation
Pulmonary Disease
Thoracic and Cardiac (Surgery)
Radiology
Radiation Oncology
Surgery of the Hand
Wade Faulk
Surgery, Surgical Critical Care
Vascular Neurology