We continually ask patients to share their CU Medicine experiences with us, it's one of the ways we make sure we are providing the best care possible. For Patient Experience Week in April, we wanted to share some of the submissions we have gotten so we have compiled them below.
If you would like to share your experience with us, please go here to tell us your story. We will share patient experiences on our Facebook, Instagram, and Twitter during Patient Experience Week, April 25, 2022 to April 29, 2022.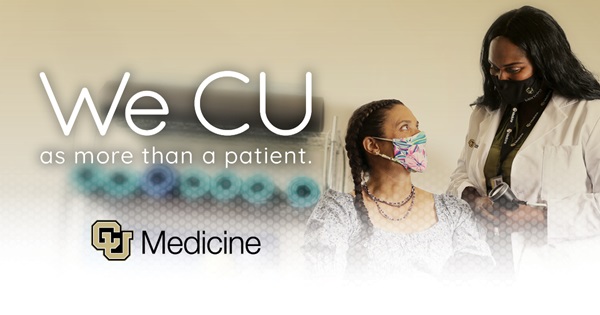 Real Patient Experiences:
"Making appointments is straightforward, checking in is quick, I never wait more than a couple of minutes to get brought back for vitals (at CU Medicine Family Medicine - Landmark). Drs. Brougham and Leininger have great personalities."
"This whole office is amazing and makes me feel safe and heard." (CU Medicine Obstetrics & Gynecology – South Metro)
"Dr. Julia Rifkin sends out positive vibes from the moment she enters the room! She totally tunes into issues and concerns, and presents and easily understood plan of action."
"I have been very happy with the attention given, the honesty provided, and the willingness to answer all of my questions." (CU Medicine Family Medicine - Park Meadows)
"All staff is kind and courteous. It's a very welcoming and non-threatening clinical atmosphere. Its evident these folks really care about their patients. I have been nothing but impressed." (CU Medicine Orthopedics - Highlands Ranch)
"The medical care we've received has been in the most caring, patient-centered manner that has always put us at ease and created a spirit of optimism about recovery and quality of life in the long term."
"I can't say enough about how great I was taken care of. The staff at CU Medicine Gynecologic Oncology – Highlands Ranch worked with me in getting scheduled right away with Dr. Guntupalli. I can't say enough good things about him especially during such a traumatic time in my life and knowing that I have cancer. Dr. Guntupalli was very thorough in explaining everything to me and is very knowledgeable, compassionate, professional and flexible! He really truly cares about his patients and his mission as a cancer doctor. I have forever grateful and thankful to him."
"I chose Dr. Schultz as my primary care doctor based in part by his care of my husband who Dr. Schultz referred to Dr. Hunter. He diagnosed my husband with heart failure. Dr. Hunter referred him to Dr. Zipse who surgically added a three lead pacemaker on an emergency basis. If it had not been for Dr. Schultz listening to my 80 year old husband and making the proper referrals, my husband might not be alive today. Dr. Schultz takes the time not only to listen but to explain his reasons for his decisions. He includes his patients in treatment planning which can increase compliance to treatment, an important aspect of effective medical care."
"In 1999 and 2000 Doctors and Nurses in the CU Oncology Dept. and radiation doctors and technicians saved my life. I have been cancer free since then. I now have heart issues and Dr. Natasha Altman, her nurses and staff are WONDERFUL!!! They are so knowledgeable, patient and always kind. Thank you!"
"I was a patient under the combined care of Dr. David Badesch, Dr. Todd Bull, and Dr. Jay Pal in March of 2021. I was hospitalized for PTE, pulmonary thromboendarterectomy, which in a nutshell is an open-chest surgery aimed at removing pulmonary blood clots. Its etiology stretches back to March of 2020, at the onset of the COVID-19 pandemic, and I have strong reason to suspect the virus as responsible for the development of these clots that nearly ended my life, had it not been for the above-mentioned physicians and an army of kind and dedicated nurses and staff."
"I have three doctors at CU that I would like to thank and share how they helped me with my breast cancer journey. Dr. Gretchen Ahrendt - breast cancer surgeon - I had a bilateral mastectomy. From the very first consultation that I had with Dr. Ahrendt, she made me feel comfortable, well-informed and confident with my decisions on my upcoming surgery. She was caring and reassuring. Dr. Justin Cohen - plastic surgeon - I had a direct to implants surgery. Dr. Cohen did a great job and I have had no complications with my implants. He made all the right recommendations and the surgery went very well. Dr. Radhika Acharya-Leon - oncologist - Dr. Acharya-Leon has been instrumental with my post-surgery care. She is very caring and informative and I feel like I'm in good hands with my breast cancer treatment."

Share your experience with us!