The University of Colorado School of Medicine honored seven clinicians with the school's first-ever Distinguished Clinician Awards on March 28, 2023.
Dean John J. Reilly, Jr., MD, and Senior Associate Dean of Faculty and Chief Well-being Officer Lotte Dyrbye, MD, MHPE, hosted a celebration where the Distinguished Clinicians were recognized by peers and school leaders for their exemplary contributions in caring for patients.

"We're an academic medical center, so we pay a lot of attention to education and research, but at the end of the day we have a very important mission in providing outstanding clinical care and, objectively we do an excellent job of doing that," said Reilly. "Our honorees tonight are people who have been nominated and recognized by their peers as exceptional among the exceptional."
The 2023 Class of Distinguished Clinicians
Advanced practice provider awardees:
Denise Abdoo, PhD, CPNP, MSN, assistant professor of pediatrics.
Keri Halsema, RN, NP, MSN, senior instructor of medicine.
Glen Peterson, RN, DNP, ACNP, associate professor of medicine.

Physician awardees:
Rachel Davis, MD,, associate professor of psychiatry and practices at CU Medicine Psychiatry – Obsessive Compulsive Disorder (OCD) Clinic.
Manali Kamdar, MD,, associate professor of medicine.
Michael McDermott, MD,, professor of medicine.
David Partrick, MD, professor of surgery.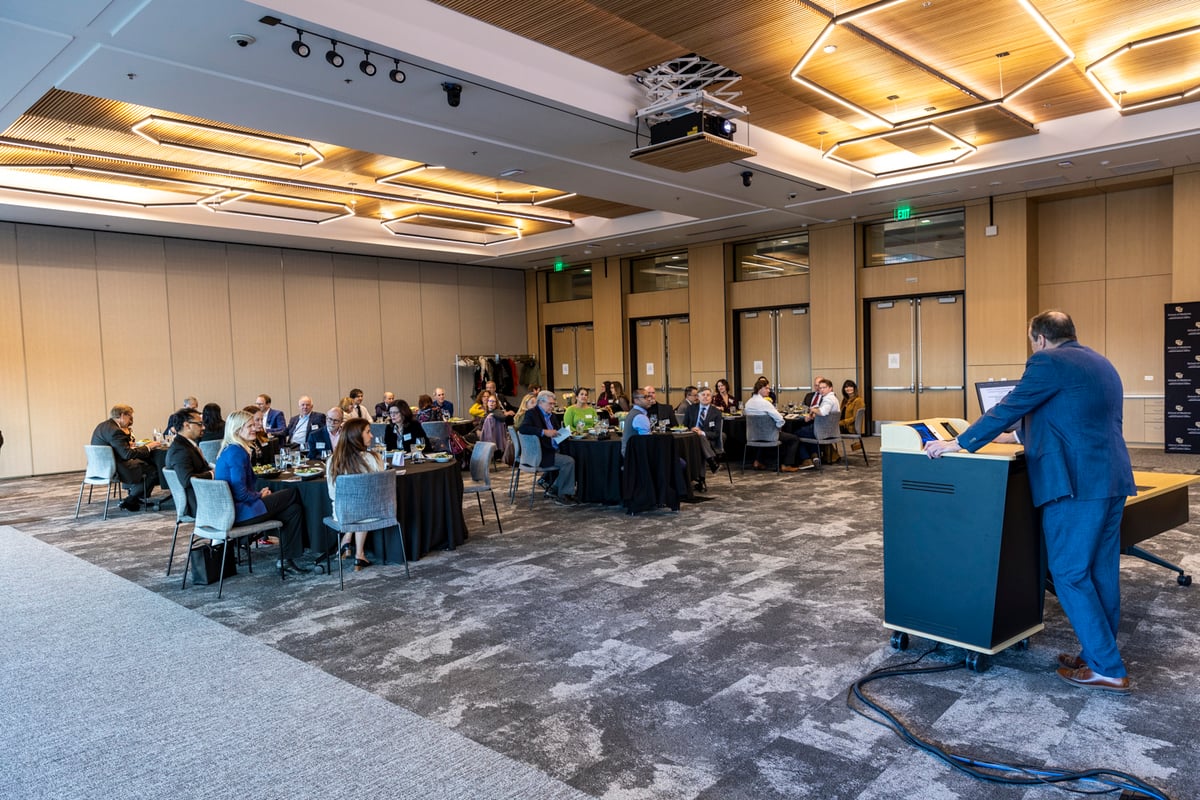 After a reception and dinner in the Elliman Conference Center in the Anschutz Health Sciences Building, each Distinguished Clinician was introduced by colleagues who recognized their contributions and personal characteristics that have profound impacts on patients, families, and fellow clinicians.

Keri Halsema, NP, MSN, RN, senior instructor of medicine, was described as an "experienced clinician with an incredible wealth of knowledge and extensive clinical experience in this very tough field," at the same time she was recognized for her attention to patients.

"She is truly known best for going the extra mile for our patients," said Angela Falco, FNP, MPH, senior instructor in medicine. "Keri gets to know her patients and supports them through their entire bone marrow transplant journey. She listens to their concerns, she asks the tough questions, and follows through to ensure that the patient gets the most out of their lives whether they are winning their battle with cancer or they are going to be succumbing to it."

Emphasizing that point, Falco read from a nomination letter from a patient, Judy Golden, who described how Keri's care made a difference: "My caregiver – Craig, my husband – and I appreciated Keri's effort to verbally and with highlighted responses (stars, heart, circling, underlining each result) what blood results were improving. She always looked for alternative treatments for my symptoms when another arose. Once I was back home, Keri was always just a phone call or email away when I had a question about my new immune system."

Glen Peterson, DNP, ACNP, RN, associate professor of medicine, was honored by Clay Smith, MD, professor of medicine and director of the blood disorders and cell therapies center.

"I've never seen him get unhappy – maybe once – in 10 years," Smith said. "He helped lead us through COVID, which was very tough for our patients. He was always there, steadfast. So, this is really a huge honor. I've been the director of this program for over a decade, and this is my last official act and I really can't think of a better way of going out than to say thank you to Glen for all he has done."

Each Distinguished Clinician received tributes that highlighted their expertise and that emphasized the personal connections they make.

Michael McDermott, MD, professor of medicine, was recognized as so expert in his field of endocrinology, that he was consulted when President George H.W. Bush was diagnosed with atrial fibrillation and Grave's disease, said Brian Haugen, MD, professor of medicine and head of the Division of Endocrinology.

David Partrick, MD, professor of surgery, is not so secretly known as Dad among his younger colleagues and for providing "Dad consults" in the middle of the night when they call him.

Rachel Davis, MD, associate professor of psychiatry, who is an expert in obsessive-compulsive disorder and deep brain stimulation, was hailed by Moksha Patel, MD, assistant professor of medicine, for the care she provided to him.

"Dr. Davis is one of the few providers in the country to provide deep brain stimulation for treatment-resident OCD. I am fortunate enough to be one of those patients," Patel said. "Many providers seek Dr. Davis to discuss complex cases, risk management, and ethical norms. She also passionately advocates for expansion of insurance coverage for psychiatric care to ensure that all of her patients get the care that they need.

"I can honestly say that meeting Dr. Davis as a patient is one of the biggest blessings of my life. She has the perfect mixture of expert knowledge, empathy, and perhaps most importantly and unrelenting perseverance to continuously strive to improve the lives of her patients."

Denise Abdoo, PhD, CPNP, MSN, assistant professor of pediatrics, was recognized for her care for child survivors of sexual assault.

"You will never meet a stronger advocate for the vulnerable populations that we serve as a hospital, and that our campus community serves," said Andy Sirotnak, MD, professor of pediatrics. "Her vulnerability and her ability to bring that out in others in times of absolute crisis and trauma is matched only by her tenacity, her strength, and her ever-present empathy for her patients. Her service to others is balanced with self-care and a steadfast attention to the wellness of herself and for our entire team. She is a baker, a dog owner, and an outdoors person, so she keeps our glucose and our spirits high, even in the hardest times."

Manali Kamdar, MD, associate professor of medicine, sets an example for her colleagues, said Sunita Sharma, MD, associate professor of medicine.
"On an individual provider level, the clinical care provided by Dr. Kamdar combines the best of her incredible understanding of care among bone marrow patients and a clear and unwavering commitment to the human elements of care for both patients and caregivers alike," Sharma said. "Dr. Kamdar combines the best of all characteristics in clinicians: an incredible intellect, exceptional communication skills, and a level of compassion that is incomparable. These are all qualities that we should hope to emulate."
The Distinguished Clinician awards were bestowed by the School of Medicine for the first time this year, with plans to establish the honor as an annual event.
This article was originally published by the
University of Colorado Anschutz Medical Campus.