These fajitas are served with chicken, black beans, and Spanish rice or leave out the chicken for a vegetarian option.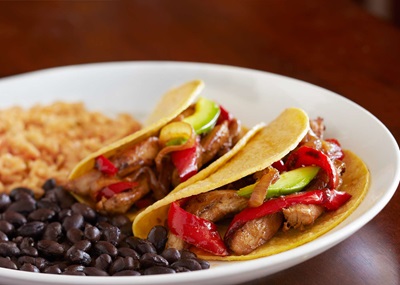 Ingredients (4 servings)
16 oz. canned, fat-free, no-salt-added black beans (drained, rinsed)

1 cup brown rice (cooked to package instructions)
1 lb. boneless, skinless chicken breasts or tenderloins (cut into 1-inch strips) - or leave out the chicken for a vegetarian option

1 Tbsp. low-sodium soy sauce

1 medium bell pepper (sliced)

1 medium onion (sliced)

1/2 tsp. black pepper

1/2 tsp. cumin

taco-sized tortillas, or corn tortillas (Choose tortillas with the lowest amount of saturated fat, trans fat and sodium.)

1 avocado (sliced)

1/2 cup jarred salsa (lowest sodium available)

1/2 cup fat-free sour cream
Directions
Beans and Rice
Spray a small pot with cooking spray, heat beans over low-heat until warmed, stirring occasionally (approx. 10 minutes).

Combine cooked rice with 2 tablespoons salsa and stir.
Quick Chicken Fajitas
Spray a large skillet with cooking spray. Heat to medium-high and add chicken, cook for 3 minutes until browned.

Reduce heat to medium and add soy sauce, bell pepper, onions, pepper and cumin. Cover and cook for 8-10 minutes, stirring occasionally.

Spoon evenly over tortillas and top with sliced avocado, salsa and/or sour cream (optional).