Here is a healthy recipe for hearty, vegetarian jackfruit tacos from the culinary medicine team ant the
CU Anschutz Health and Wellness Center
.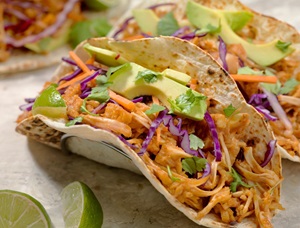 What is jackfruit
? It's a giant fruit that is often used as a meat substitute and takes on the flavor of whatever it is seasoned with.
To make this recipe easy, we suggest using canned jackfruit in brine or water.
Ingredients
2 20 oz. cans of jackfruit in brine
1–2 Tbsp. avocado or olive oil
1 small yellow onion (about 3/4 cup), chopped
3 garlic cloves, chopped
3/4 cup fire-roasted tomatoes
2 tsp. smoked paprika (or more to taste)
2 chipotle in adobo pepper
1–4 tsp. adobo sauce (depending on how spicy you like it)
1 tsp. oregano
salt, pepper
1 tsp. maple syrup
1 tbsp. lime juice
To assemble (optional):

Corn tortillas
Cilantro
Avocado
Red onion
Rice
Directions
Drain and rinse canned jackfruit, discard any stems.
Place the jackfruit in a mixing bowl and shred it with your hands. Set aside.
Pre-heat cast iron skillet or large pan over medium heat.
Spray the pan with oil and wait for it to heat up. Add onions to the skillet and sauté on medium heat till translucent for about 3 minutes.
Add garlic and cook till fragrant, about 30 seconds longer.
Transfer onion and garlic to the blender, add fire-roasted tomatoes, paprika, chipotle peppers and adobo sauce (start from 1 tsp and add more later if you would like to add more heat. Blend till smooth.
Turn the stove back on to medium heat and spray your pan with more oil. Add shredded jackfruit to the pan and sauté for 2-3 minutes, shredding the remaining pieces by pressing with the back of the spatula.
Add the tomato mixture to the pan and mix to combine.
Add the remaining ingredients and stir. Cook for another 7-10 minutes.
Taste and add extra chipotle sauce for more heat, maple syrup to balance the flavor or lime juice for more acidity.
Warm your tortilla and smash some avocado on it, or place the jackfruit directly on a tortilla and top with red onion, chopped cilantro and avocado. Enjoy!
This recipe is curated by the culinary medicine team at the
CU Anschutz Health and Wellness Center
. Find more healthy recipes
here
, and join them Tuesday evenings for their virtual Culinary Medicine
Cooking Classes
.