Better-than-takeout healthy orange chicken stir fry with flavorful coconut cauliflower rice. This easy paleo weeknight dinner recipe is packed with veggies, protein, and an incredible sweet & tangy orange sauce. Perfect for meal prep and the best leftovers!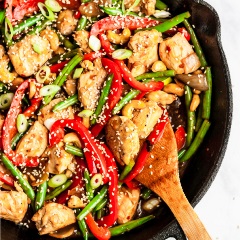 Ingredients
For the cauliflower rice:
1 tablespoon coconut oil
1 head of cauliflower
Salt and pepper, to taste
For the sauce:
3/4 cup freshly squeezed orange juice
2 tablespoons honey (or agave nectar)
3 tablespoons gluten free soy sauce
1/2 tablespoon freshly grated ginger
1 tablespoon cornstarch or arrowroot starch
1/2 teaspoon red pepper flakes
zest from 1 large orange
For the stir-fry:
1 1/2 tablespoon toasted sesame oil, divided
1 pound boneless skinless chicken breast, cut into large bite-sized pieces
Freshly ground salt and pepper
½ white onion, cut into chunks
3 garlic cloves, minced
1 large red bell pepper, sliced into thin strips
8 ounces fresh green beans, trimmed and cut into 2 inch pieces
½ cup raw cashews
To garnish:
Green onion, for garnish
Toasted sesame seeds, for garnish
Instructions
First make your cauliflower rice. Remove all greens from cauliflower and break into florets. You can either use a box grater, or a food processor to process the cauliflower into rice. If using a food processor (the easier method), simply add half of cauliflower florets to bowl of the food processor with a blade attachment. Pulse until cauliflower resembles rice. Add in remaining florets and process again until cauliflower becomes rice-like. Transfer to a large, clean dish towel and squeeze all the moisture out of the cauliflower. Set aside in a large bowl until ready to cook.

Next make the sauce: Add the orange juice, honey, soy sauce, ginger, cornstarch/arrowroot starch, red pepper flakes and orange zest to a large bowl; whisk until the cornstarch is dissolved. Set aside for later.

Next preheat a large skillet or pan over medium-high heat and add in 1 tablespoon of the toasted sesame oil. Add in chicken, season with salt and pepper, and cook for 5-6 minutes or until fully cooked and no longer pink. Once chicken is cooked, transfer to a bowl and set aside. Keep the heat in the pan.

Add the other 1/2 tablespoon of sesame oil to the pan (over medium-heat); add in onion and sauté until onions become slightly translucent, about 2 minutes.

Next add in the garlic, bell pepper, green beans and cashews and sauté for 4-6 minutes. You want the green beans to still have a little bit of crunch!

While your veggies are cooking, make your cauliflower rice. Add ½ tablespoon coconut oil to a separate large skillet and place over medium heat. Once oil is hot, add in cauliflower rice and cook for 5 minutes, stirring occasionally. Season with salt and pepper to taste.

Pour the orange sauce into the pan. Stir frequently as the sauce will start to thicken up.

Add in chicken and stir again. Reduce heat to medium low and let the sauce simmer and thicken some more, about 2-3 minutes.

Serve immediately over your cauliflower rice. Garnish with toasted sesame seeds, green onion and cilantro if desired. Serves 4.
To make gluten free: Please ensure that all of your ingredients are gluten free, including the cornstarch and the soy sauce.
To make vegetarian: use 1 can of chickpeas in place of the chicken.
This recipe was originally published by Ambitious Kitchen.