Need an easy, delicious, 30 minute dinner? This easy brussels sprouts mac and cheese recipe is great for kiddos and the perfect way to get your veggies in.
What makes this mac and cheese a little healthier? Besides the brussels sprouts it has less butter and less cheese - but that doesn't make it less delicious.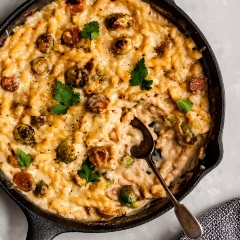 Ingredients
For the pasta:
8 ounces gemelli pasta* (or any pasta of choice)
For the brussels sprouts:
1 tablespoon olive oil or butter
1 pound brussels sprouts, halved and any outer yellow leaves removed
½ teaspoon garlic powder
Freshly ground salt and pepper
For the cheddar cheese sauce:
2 tablespoons butter or ghee
2 cloves garlic, finely minced
¼ cup all purpose flour (whole wheat or all purpose GF flour will also work)
1 3/4 cups unsweetened almond or cashew milk (can also use regular milk)
6 oz sharp cheddar cheese (about 1 ½ cups shredded cheddar cheese)**
Freshly ground salt and pepper, to taste
For topping:
2 oz cheddar cheese (about ½ cup shredded cheddar cheese)
Parsley, for garnishing
Instructions
Boil the noodles until al dente, according to the directions on the package. Once done cooking, drain and set aside.

While the noodles are boiling, cook the brussels sprouts: In a large oven safe skillet or pot, add in olive oil and place over medium high heat. Once hot, add in brussels sprouts and sprinkle garlic powder on top, then season with salt and pepper. Stir frequently and cook until brussels begin to turn slightly golden brown, about 3-5 minutes. Once nice, golden and tender, transfer to a large bowl and set aside.

In the same skillet or pot, make a slurry: add butter and garlic. Once butter is melted, whisk in the flour and cook for 30 seconds until a paste forms. Slowly add in cashew/almondmilk (or regular milk), whisking away any lumps. Increase heat and bring mixture to a boil, then reduce heat and simmer for a few minutes, stirring every so often. Next add in 6 ounce of cheese and stir until cheese is completely melted. Add salt and pepper, to taste.

Fold in cooked noodles and cooked brussels sprouts to the cheese sauce. Taste again and add additional salt and pepper, if necessary. Top with additional 2 ounces shredded cheddar. At this point you can either serve the mac and cheese and just fold in the extra cheddar you just added, or remove from heat and place under the oven broiler for 1-2 minutes or until cheese is bubbly and slightly golden brown. Serves 6. Top with a little freshly ground black pepper, and parsley if you'd like.