Risotto typically requires a lot of attention, but this version, from the
CU Anschutz Health and Wellness Center
, not only allows you to step away from the kitchen, it's delicious, nutritious, and baked! Make it as a side or main dish.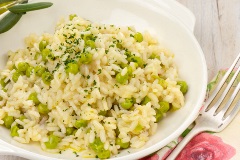 Ingredients
Serves: 4
2 tsp. olive oil
½ cup yellow onion, finely chopped
1 small garlic clove, minced
1 cup Arborio rice
Kosher salt and black pepper to taste
4 oz. kale (about ⅓ bunch), thinly sliced (about 4 packed cups)
3 ½ cups low-sodium chicken broth
4 oz. baby spinach (about 4 packed cups)
1 cup frozen peas, thawed
½ cup grated Parmesan, plus more for garnish
3 tsp. unsalted butter (optional)
1 tsp. lemon juice
Directions
1. Preheat oven to 375 degrees Fahrenheit.
2. In a large Dutch oven, heat oil over medium. Add onion and cook, stirring occasionally, until softened, about 3 minutes.
3. Add garlic and stir until fragrant, 1 minute. Add rice, season with salt and pepper, and stir until coated in oil and lightly toasted, 2 minutes.
4. Add kale, season with salt and pepper, and stir until wilted, 30 seconds. Add broth and bring to a boil over high heat.
5. Cover and bake in the oven until almost all the liquid is absorbed, and rice is tender, about 20 minutes.
6. Remove from the oven and stir in spinach and peas until spinach is wilted.
7. Add Parmesan, butter, and lemon juice. Stir until well blended and saucy. (Liquid will continue to absorb as risotto sits.)
8. Season with salt and pepper to taste. Serve in bowls and top with more Parmesan.
This recipe is curated by the culinary medicine team at the CU Anschutz Health and Wellness Center and adapted from NYTimes Cooking. Find more healthy recipes here, join them Tuesday evenings for their virtual Culinary Medicine Cooking Classes.