At about six years old Juniper Peterson realized how she felt didn't match how she looked, "My body just didn't feel right."
Identified as a boy when she was born, she knew from an early age that she was different and felt confused, "I felt like I was gay, but not gay. I didn't relate to guys well and hung out with mostly girls."
Peterson has five bothers and a twin brother that she would compare herself to and was afraid to say anything, "To me it felt all wrong. I felt guilt and shame. I kept it hidden for so long."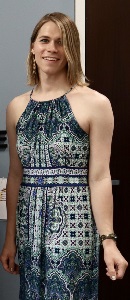 After several years of hiding, she decided this last year to tell her family who she truly is, "I was very afraid to come out," but she was met with love and support, "They all want to learn and be there for me. I realized it's not wrong, it's just who I am."
Peterson is now in the process of transitioning which for her includes electrolysis treatment at CU Medicine Dermatology – Aurora. The clinic is the only place in Colorado where transgender patients can have electrolysis done and have it covered by insurance, "Electrolysis is the only FDA approved form of permanent hair removal," explained Tayler Thompson, a nurse practitioner at CU Medicine Dermatology, "We take a very small probe, the size of a hair follicle, insert it into the follicle and then an electrical current is applied and it kills the nutrient source to the hair to make sure it doesn't regrow."
Permanent hair removal is necessary for Peterson to be able to have bottom surgery – also known as genital surgery or sex reassignment surgery. It is important that electrolysis is done properly to avoid infections and other post operation complications.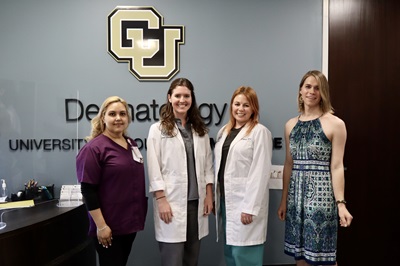 Patients have to undergo several electrolysis treatments before all the hair is removed and they can have their surgery. It's a tedious process, "We do one or two hour sessions and can clear 100-200 hairs in an hour. Each hair is treated for seven seconds. To clear the entire surgical site for surgery takes a year to a year and half," said Thompson.
"There's a lot of waiting for your journey," added Peterson but says she's excited to have found CU Medicine Dermatology – Aurora, "It's a place where I feel comfortable and people respect you and just make you feel just wonderful. I love coming in here."
There are other places where patients can get electrolysis done but it likely won't be covered by insurance, "Given that it is going to take hours and hours, that's a lot of money and most people don't have the resources to be able to be paying that," explained Kelly Moran who is also a nurse practitioner at CU Medicine Dermatology – Aurora.
Prices vary but electrolysis can cost around $80 per hour session, or sometimes even just $80 for fifteen minutes, "Upwards of $7000 for a full clearance and that's just one piece of the journey," said Moran, "Patients are excited to start the process and that we can most likely get it covered by their insurance because that can be a huge barrier," she added.
Word must have started getting out in the transgender community that CU Medicine Dermatology – Aurora provides this service because right now they have a long waitlist of patients, "We didn't realize the number of people who would reach out to us and say that they were interested in this," said Thompson.
To help get through the waitlist the clinic recently hired a medical assistant that can focus on electrolysis full time. It will help Thompson and Moran have more time for their other patients as well, "This is only part of our clinic and part of our clinic's mission. We're trying to increase access to care for lots of different people," Thompson added.
Peterson is getting close to being done with electrolysis and then her surgery will be next. She is excited to finally be going through her transition process and is super grateful for the care she has received so far, "Everything has just started to feel more natural, more correct. Looking on the outside how I feel on the inside makes me feel safer, more confident, and just happy."
Click/tap here to learn more about CU Medicine Dermatology – Aurora.
Additional Resources for Transgender Patients:
Several CU Medicine providers also see patients through the UCHealth Integrated Transgender Program,click/tap to learn more.
One Colorado is the state's leading advocacy organization dedicated to advancing equality for lesbian, gay, bisexual, transgender, and queer Coloradans and their families. They've made a list of healthcare resources for patients and their families. Click/tap to learn more.