These muffins are hearty and packed with good for you ingredients. They're the perfect way to start your morning or re-energize you throughout the day.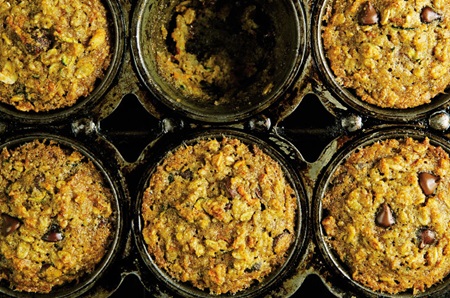 Ingredients (Serves 12)
2 cups almond flour
1 cup old-fashioned oats
2 tsp. ground cinnamon
1⁄2 tsp. ground nutmeg
1 tsp. baking soda
1⁄2 tsp. fine sea salt
3 eggs, beaten
1 cup grated zucchini (about 1 zucchini)
1 cup grated carrots (about 2 large carrots)
6 Tbsp. unsweetened applesauce
1⁄2 cup pure maple syrup
1 tsp. vanilla extract
Optional add-ins: chopped walnuts, dark chocolate chips, or raisins
Preparation
Preheat the oven to 350̊ F. Line a 12-cup standard muffin tin with paper muffin cups, or spray with non-stick cooking spray.
In a large bowl, combine almond flour, oats, cinnamon, nutmeg, baking soda, salt, and walnuts, raisins, or chocolate chips (if using).
In a separate bowl, mix the eggs, zucchini, carrots, butter, maple syrup, and vanilla. Add to the dry ingredients and mix until well combined.
Spoon the batter into the muffin tin, filling each to the brim. Bake until the muffins are nicely browned, or until a toothpick comes out clean, about 25-35 minutes.
Adapted from the Run Fast, Eat Slow cookbook.

This recipe is curated by the culinary medicine team at the CU Anschutz Health and Wellness Center. Find more healthy recipes here.