This healthy grain bowl packs in the greens with peas, asparagus and a creamy yogurt dressing. Tofu adds protein while keeping it vegetarian, but you could also swap in cooked shrimp or chicken for a satisfying dinner or packable lunch ready in just 15 minutes.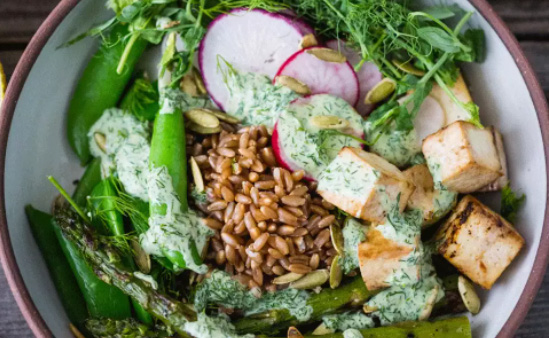 Ingredients
½ cup snap or snow peas,
trimmed
4 spears asparagus, tough
ends removed, cut into 2-inch
pieces
½ cup plain whole-milk yogurt
¼ cup chopped fresh dill
1 tablespoon lemon juice
1 tablespoon extra-virgin olive
oil
1 clove garlic, minced
¼ teaspoon kosher salt
½ cup cooked farro
4 ounces baked tofu, cubed
3 radishes, sliced
1 tablespoon Toasted pumpkin
seeds for garnish
Directions
Bring a medium pot of water to a boil. Add snap (or snow) peas and
asparagus; cook until just tender, about 2 minutes. Rinse under cold water.

Whisk yogurt, dill, lemon juice, oil, garlic and salt together in a small bowl.

Place farro in a shallow serving bowl. Top with peas, asparagus, baked tofu and
radishes. Drizzle 2 tablespoons of the dressing on top (save extra for other
use). Sprinkle with pumpkin seeds, if desired.
Nutrition Facts
Serving Size: 1 bowl

Per Serving: 553 calories; protein 28.8g; carbohydrates 56.3g; dietary fiber
8.4g; sugars 16.8g; fat 25.7g; saturated fat 5.6g; cholesterol 15.9mg; vitamin
a iu 1121.4IU; vitamin c 33.8mg; folate 64.9mcg; calcium 331mg; iron 4.8mg;
magnesium 35.5mg; potassium 457.8mg; sodium 626.2mg; thiamin 0.2mg.

Exchanges: 3 fat, 2 1/2 starch, 2 medium-fat protein, 2 vegetable, 1/2 wholemilk
dairy

This recipe was originally published by EatingWell.