Shakshuka is a Tunisian dish that has grown in popularity across the globe. It is known to be enjoyed for breakfast, lunch and even dinner in many countries. Try this adapted recipe from the Anschutz Health and Wellness Center which features nutrient-rich kale and chickpeas.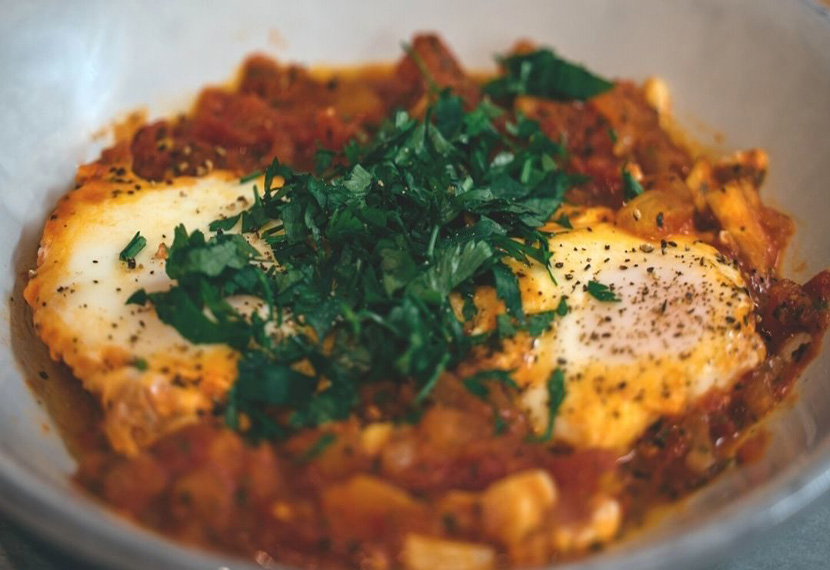 Shakshuka with Kale and Chickpeas
Servings: 6
Calories: 200kcal per serving
Ingredients:
1 Tbsp. olive oil
1 small onion, diced
1 clove garlic, minced
1 orange bell pepper, seeded and diced
28 oz. can diced tomatoes, no-salt-added
15 oz. can chickpeas, rinsed and drained
1 cup vegetable stock, or as needed
2 Tbsp. tomato paste
3 cups kale, roughly chopped
1 tsp. chili powder
2 tsp. cumin
2 tsp. paprika
⅛ tsp. cayenne, or to taste, optional
Pinch of salt, or to taste
Pinch of pepper, or to taste
6 large eggs
1 Tbsp. parsley, minced, for garnish, optional
Hot sauce, optional
Feta, mozzarella, or cheese of choice, optional
Pita bread, toast or brown rice, optional
Directions:
Heat the olive oil in a large skillet or Dutch oven over medium-high heat.
Add the diced onion and sauté until translucent, about 5 minutes. Add the garlic and sauté until fragrant, about a minute more.
Add the bell pepper and cook until softened, about 7-10 minutes.
Add diced tomatoes, chickpeas, vegetable stock, tomato paste, kale, chili powder, cumin, paprika, cayenne if using, salt and pepper to the skillet and bring to a simmer. Reduce the heat to low and simmer for about 5 minutes until the sauce reduces and the kale is wilted. Adjust the spice and other seasonings to taste. Add more broth if the sauce feels too thick.
Poach eggs in the sauce by creating a well for each egg with a ladle or large spoon. Rest the ladle/spoon in the sauce and crack the egg into the spoon. Gently remove the ladle/spoon and allow the egg to settle in the space left behind. Repeat for the remaining 5 eggs.
Cover and simmer for 10 to 15 minutes, checking regularly until the egg whites are cooked and the yolks are cooked to desired doneness.
Garnish with minced parsley, cheese, and/or hot sauce and serve with pita, toast or brown rice.
Love this recipe? The Anschutz Health and Wellness Center offers bi-weekly virtual Culinary Medicine cooking demonstrations by registered dieticians.
Trying to lose weight? Learn more about the weight loss programs offered by the CU Medicine Weight Management and Wellness clinic:
Weight Loss 4 Life – Workshops and Group Support
State of Slim – 16 week program with emphasis on mindset and metabolism
My New Weigh – 20 week program utilizing meal replacements
This recipe was adapted from Oldways by the Anschutz Health and Wellness Center.