Whip up this comforting pumpkin pasta with toasted walnuts and spinach dish in a flash for an easy weeknight dinner or serve it at your next dinner party. 100% pure pumpkin puree rich in vitamin A is what makes the pasta sauce so creamy and delightful. Pair with grilled chicken or sausage if your diet allows.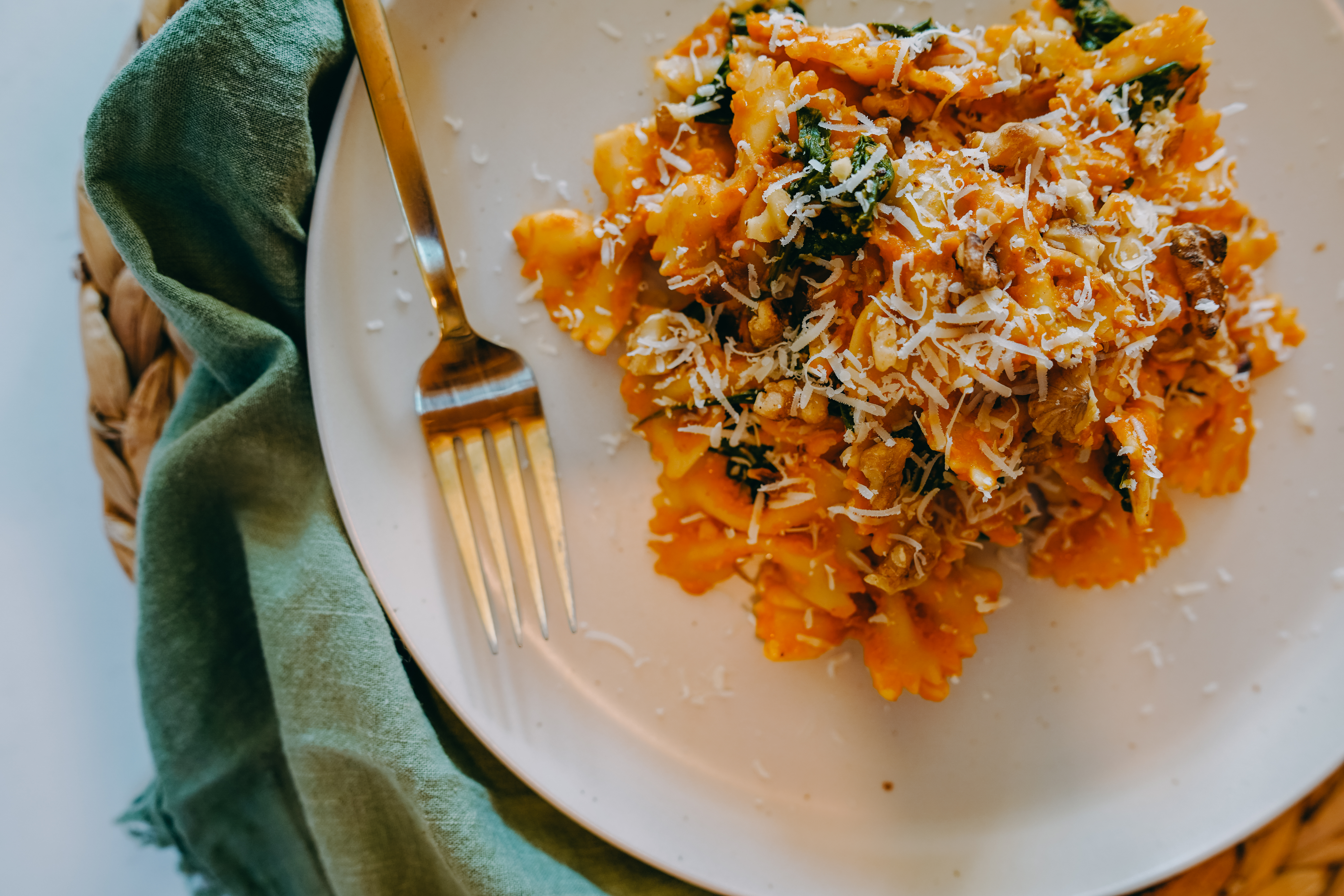 Pumpkin Pasta with Spinach and Walnuts
Prep Time: 5 minutes
Cook Time: 10 minutes
Servings: 4
Calories: 268kcal
Ingredients:
8 ounces shells or bowtie pasta
1 tbsp Extra Virgin Olive Oil
2 cloves fresh garlic, minced
1 cup pumpkin puree
2 tbsp tomato paste
2 tbsp Greek yogurt
1 cup vegetable broth
Pinch of ground nutmeg
Cracked black pepper and salt to taste
2 cups baby spinach
1/4 cup chopped toasted walnuts
Parmesan cheese (if your diet allows)
Directions:
Cook the pasta according to package instructions. Drain and set aside.
While the pasta cooks, bring a large skillet to medium heat and add the olive oil and minced garlic. Cook until fragrant, about 2 minutes.
Add the tomato paste, pumpkin and Greek yogurt. Whisk until smooth.
Stir in the vegetable broth, nutmeg, salt and pepper. Cook on low for about 5 minutes.
Add the spinach. Cooking until it begins to wilt.
Stir in pasta and toss to coat. Sprinkle with toasted walnuts.
If desired, sprinkle in parmesan cheese. Serve immediately.
This recipe is adapted from Marissa Moore.
Photography by Chantal Lavalle and Rose Abell.