Here is a festive recipe for the fall season from the Culinary Medicine team at the CU Anschutz Health and Wellness Center. You can whip it up in a matter of minutes because almost all of the ingredients are canned.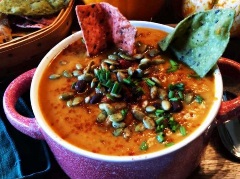 Ingredients (Serves 6)
1 small onion, diced
1 cup vegetable broth, divided (more if needed to keep pan from burning)
2 tsp. chili powder
1 tsp. curry powder
1 tsp. cumin
1 tsp. salt
¼ tsp. cayenne powder, or to taste
¼ tsp. black pepper, or to taste
2 15 oz. cans pumpkin (not pumpkin pie mix)
1 15.5 oz. can black beans, drained and rinsed
1 4 oz. can diced green chiles (mild, medium or hot)
1 13.5 oz. can coconut milk
1 14.5 oz. can fire roasted diced tomatoes, undrained
Pepitas (optional for topping)
Chopped chives (optional for topping)
Preparation
Add ½ cup vegetable broth to pan along with diced onion and sauté until very tender, about 10 minutes. Watch your pan so that it doesn't dry up and burn. Add more broth if necessary.
Add chili powder, curry powder, cumin, salt, cayenne powder, and black pepper, stirring to coat the onions and slightly toast the seasonings.
Add in pumpkin, black beans, green chiles, coconut milk, and undrained diced tomatoes.
Add up to ½ cup or so of broth to get the best consistency.
Stir together and heat through until barely brought to a boil.
Ladle into bowls and top with pepitas and chopped chives (if desired).
This recipe was posted by the Culinary Medicine team at the
CU Anschutz Health and Wellness Center
. Find more healthy recipes
here
.