If you love classic Italian dishes like lasagna but are looking for a lighter, low-carb option, this mushroom bolognese over spaghetti squash is perfect for you! By replacing traditional noodles with nutrient-rich spaghetti squash, you can enjoy all the flavors of Italy in a healthy recipe.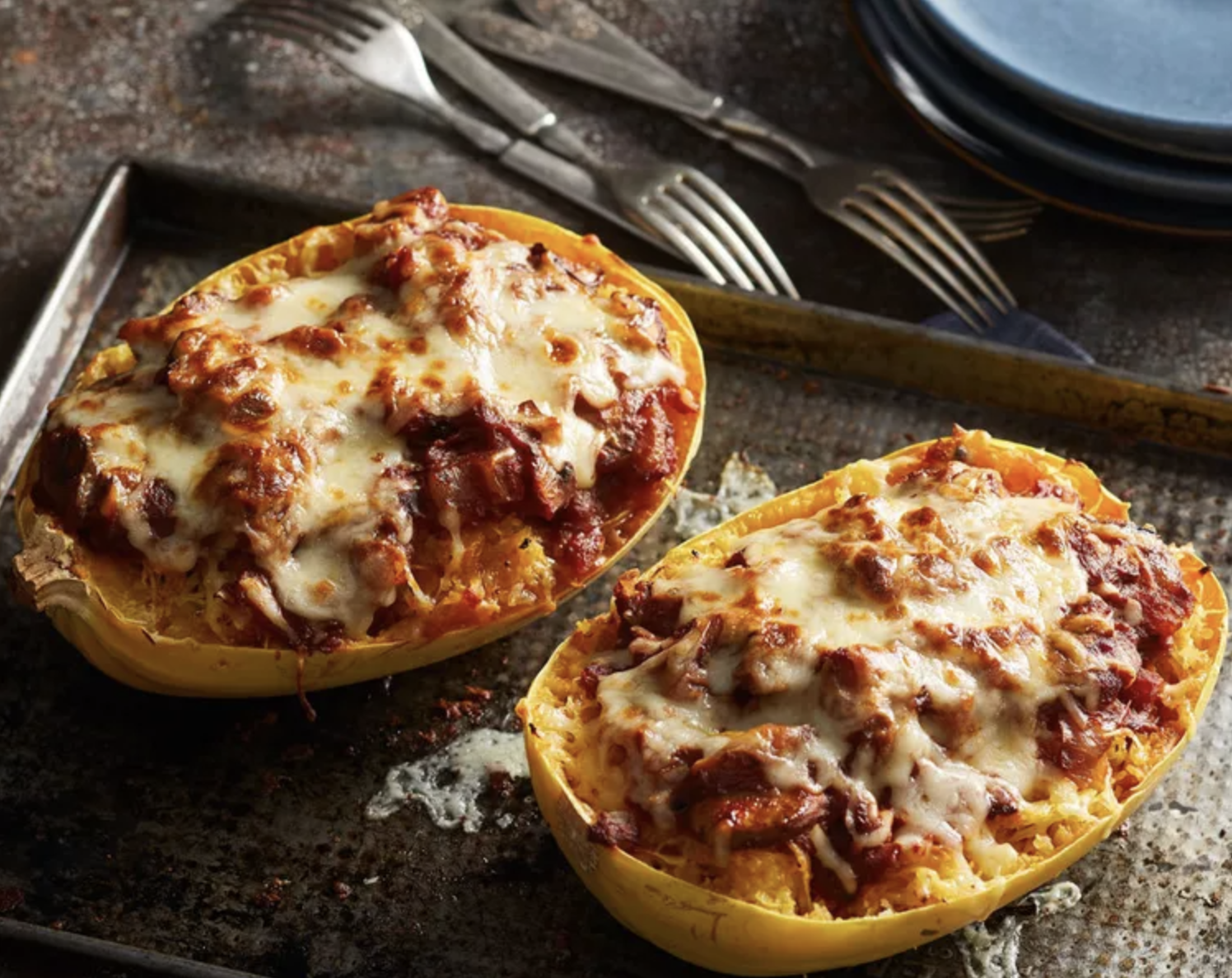 Ingredients
½ cup hot water
½ oz. dried porcini mushrooms
1 medium spaghetti squash (≈ 3 lb.), halved lengthwise and seeds removed
2 Tbsp. olive oil
2 cups sweet onion, chopped
1 cup celery, diced 1 cup carrot, diced
1 tsp. dried oregano
¼ tsp. crushed red pepper
5 garlic cloves, minced
8 oz. white button mushrooms, finely chopped
2 Tbsp. tomato paste
1 Tbsp. reduced-sodium soy sauce
½ tsp. freshly ground black pepper
Salt, to taste
8 oz. extra-firm tofu, drained and crumbled
15 oz. can no salt added diced tomatoes
¼ cup Parmesan cheese, grated
Directions
1. Combine hot water and porcini mushrooms in a bowl; let stand 20 minutes.
2. Drain mushrooms in a colander over a bowl; reserve soaking liquid. Finely chop porcini mushrooms.
3. Place 1 squash half in an 8-inch square glass baking dish and add 1" of water.
4. Cover and microwave for 8 minutes or until tender when pierced with a fork.
5. Remove the squash half and repeat with the remaining squash half. Set both aside to cool.
6. Heat oil in a large Dutch oven over medium-high. Add onion, celery, carrot, oregano, crushed red pepper, garlic and button mushrooms. Cook for 12 minutes or until vegetables are tender, stirring occasionally.
7. Stir in tomato paste and cook for 2 minutes.
8. Stir in reserved porcini mushrooms, reserved soaking liquid, soy sauce, black pepper, salt, crumbled tofu and can of diced tomatoes with juice. Reduce heat and simmer for 10 minutes.
9. While the pot is simmering, scrape the insides of the squash halves with a fork to remove spaghetti-like strands.
10. Divide spaghetti squash among 4 plates and top evenly with mushroom mixture and cheese
Nutrition Facts
Serving size: 1/4 Recipe
Calories: 310
| | | |
| --- | --- | --- |
| Total Fat | 13g | 17% |
| Saturated Fat | 2.7g | 14% |
| Trans Fat | .1g | |
| Cholesterol | 5mg | 2% |
| Sodium | 380mg | 17% |
| Total Carbohydrate | 41g | 15% |
| Dietary Fiber | 10g | 36% |
| Total Sugars | 17g | |
| Includes 0g Added Sugars | | 0% |
| Protein | 14g | 28% |
This recipe was created in partnership with CU Anschutz Health and Wellness Center and adapted from www.cookinglight.com.
Do you want to learn to cook healthier for yourself and your family? CU Medicine readers can receive $2 off CU Anschutz Health and Wellness Center Fresh Take Cooking Classes held virtually on Zoom. Use the code CU_MED to receive $2 off these classes. Learn more about community nutrition services.
Interested in weight loss? Learn more about the weight loss programs offered by the CU Medicine Weight Management and Wellness clinic.