Chicken salad is a delicious and healthy staple that can be enjoyed just about anytime of day. It's a versatile dish that's easily customized to meet just about any dietary need. Enjoy this recipe on whole-grain bread or on a bed of fresh romaine lettuce.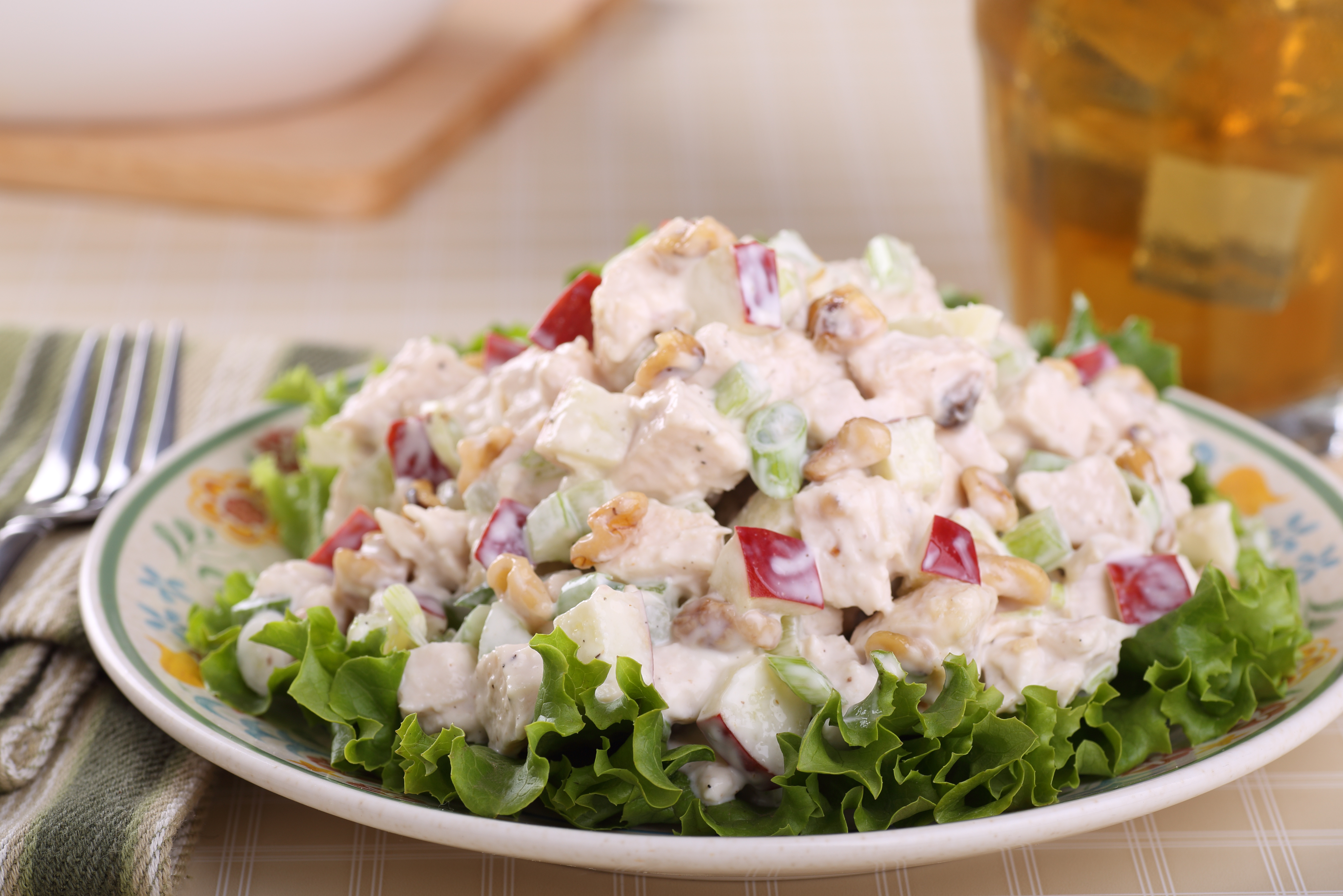 Servings: 2
Calories: 599 kcal
Ingredients:
Chicken breast, raw, 8 oz(s), (two 4-oz pieces), boneless and skinless
Salt, ¼ tsp(s)
White pepper, ¼ tsp(s), ground
Onion powder, ¼ tsp(s)
Turkey bacon, 4 strip(s), cooked crisp and chopped
Light mayo, ¼ cup(s), or low-fat
Celery, ¼ cup(s), finely diced
Green onion, 1 tbsp(s), chopped, (finely chop the bottom bulbs)
Red grapes, 4 oz, washed and sliced
Swiss cheese, 2 oz, or Gruyere cheese, shredded or cubed
Whole wheat bread, 4 slice(s), or sandwich thins
Lettuce, 4 leaf(s), inner
Tomato, 4 slice(s), thin/small
Red onion, 4 slice(s), thin
Directions:
Preheat a grill. Season the chicken breasts with salt, white pepper and onion powder. Grill the chicken over medium heat. A 3- to 4-ounce chicken breast should take approximately 4-5 minutes on each side to reach an internal temperature of 165°F. Remove from heat and chop the chicken into ½-inch to 1-inch sized pieces. (If you're making extra chicken, set it aside before chopping.)
If you haven't already done so, cook the turkey bacon until crispy. Mix together the chicken, mayo, celery, green onions, turkey bacon, grapes, cheese, and some salt and pepper.
Place the chicken salad mixture on 2 pieces of bread and spread out. Top each with lettuce, tomato, onion and another piece of bread. Cut each sandwich in half diagonally and serve.