Barbeque season has arrived, and this recipe for grilled cilantro chicken is the perfect way to celebrate summer gatherings with loved ones. The simple dressing of lime, fresh herbs and oil can be made ahead of time for easy marinating the night before. For those shorter on time, the chicken breasts or thighs can be marinated for as little as 30 minutes and still be packed with flavor on the grill. Serve this entrée with our cancer-fighting citrus quinoa avocado salad recipe or cilantro-lime rice.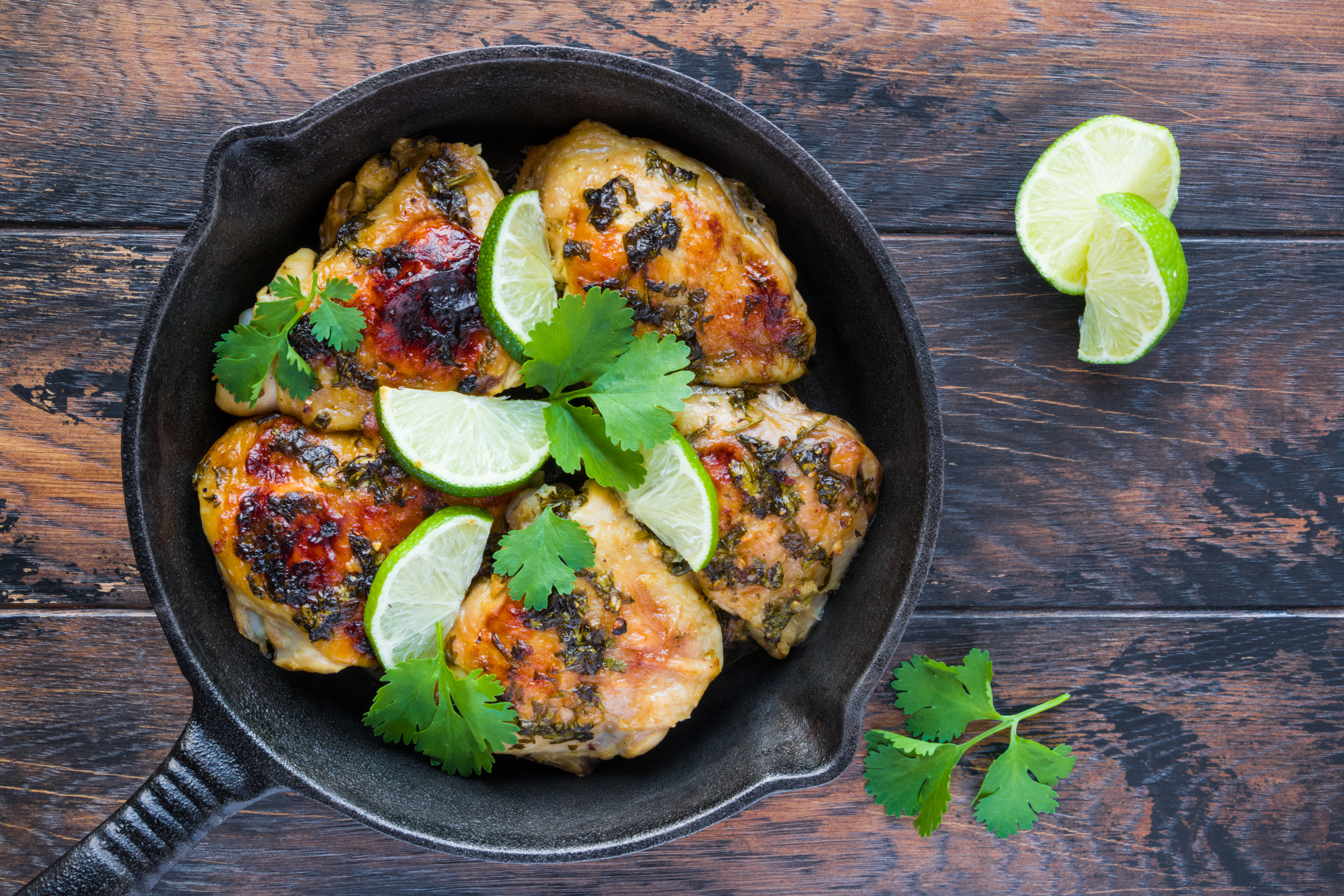 Servings: 4 to 6
Calories: 306
Ingredients
2 tablespoons extra virgin olive oil for the marinade, plus more for grilling
Grated zest from 2 limes
Juice from 2 limes (about 1/4 cup)
3 tablespoons chopped cilantro
1/2 teaspoon sugar
1/2 teaspoon salt
1/4 teaspoon black pepper
Lime wedges, fresh sprigs of cilantro, and slices of avocado, optional for serving
Directions
Pound chicken breasts to even thickness
Place the chicken breasts or thighs between two pieces of plastic wrap or wax paper and pound to an even thickness with a meat mallet or rolling pin.
Marinate the chicken
Mix the olive oil, lime zest, lime juice, cilantro, sugar, salt and pepper together in a large bowl. Add the chicken and massage the marinade into the chicken. Cover and chill for at least 30 minutes, and up to 4 hours or overnight.
Preheat Grill
Preheat a gas or charcoal grill for medium-high heat grilling, or until you can hold your hand about an inch over the grates for 1 second.
Grill the chicken
Remove the chicken breasts from the refrigerator. Remove them from the marinade and pat them dry with paper towels. Coat the chicken breasts with some olive oil. Soak a paper towel in a little more oil and use tongs to wipe the grill grates. When the grill is hot, place the chicken breasts on the grill. Grill for a few minutes on each side, until just cooked through.