This quick, simple recipe is great for busy nights or to make ahead and use for lunches. Put on a salad, serve with crackers, or put between whole grain bread.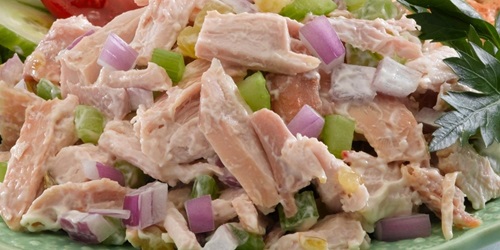 Ingredients (Serves 4)
1⁄2 rotisserie chicken, shredded and finely chopped, approximately 2 cups*
2 Tbsp. low-fat mayonnaise
1⁄3 cup plain low-fat yogurt
1 red bell pepper, diced
3 ribs celery, finely chopped (If unavailable, substitute 3⁄4 cup shredded broccoli, diced raw zucchini, or really any veggie you have)
1⁄4 cup slivered or chopped almonds
1⁄4 cup fresh basil, chiffonade (or fresh dill)
1⁄2 tsp. garlic powder
Salt to taste
Optional add-ins:
Sliced grape tomatoes
Dried cranberries
Sliced hardboiled egg
Preparation
Mix all ingredients together in a large mixing bowl.
Serve on fresh bread or in a crisp lettuce wrap.
*If rotisserie chicken is unavailable, substitute two 7oz. cans of chicken breast, drained or one 15 oz. can of chickpeas, drained and mashed).
This recipe is curated by the culinary medicine team at the CU Anschutz Health and Wellness Center. Find more healthy recipes here.