Sure these are cookies but they are good for you too. They're packed with whole-wheat flour, fiber-rich oats, and heart-healthy walnuts. Plus, each cookie is only 75 calories.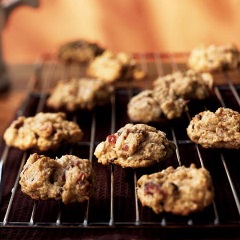 Ingredients
3/4 cup all-purpose flour (about 3 1/3 ounces)
3/4 cup whole wheat flour (about 3 1/2 ounces)
3/4 cup regular oats
1/2 teaspoon baking powder
1/4 teaspoon baking soda
1/4 teaspoon salt
1/4 cup dried cranberries
2 1/2 tablespoons finely chopped walnuts
2 1/2 tablespoons semisweet chocolate minichips
3/4 cup packed brown sugar
5 tablespoons butter, softened
2 tablespoons honey
3/4 teaspoon vanilla extract
1 large egg
1 large egg white
Cooking spray
Directions
Combine flours, oats, baking powder, baking soda, salt, dried cranberries, walnuts, and chocolate minichips in a large bowl.
Combine sugar and butter in another large bowl; beat with a mixer at medium speed until light and fluffy.
Add honey, vanilla, egg, and egg white; beat well.
Add flour mixture to sugar mixture; beat at low speed until well blended.
Cover and refrigerate 8 hours or overnight
Preheat oven to 350°
Drop batter by tablespoonfuls onto a baking sheet coated with cooking spray. Bake at 350° for 10 minutes. Cool 2 minutes on pans. Remove from pans, and cool completely on wire racks
This recipe was originally published on Health.com.