Are you looking for a healthy and tasty lunch option that you can easily prepare ahead of time? Look no further than these mouth-watering avocado buffalo chickpea wraps!

Not only are they packed with flavor, but they also deliver a whopping 13 grams of protein, making them a filling and satisfying meal. The chickpeas absorb all the delicious flavors of the zesty buffalo sauce and tangy Greek yogurt, giving these wraps a perfect blend of spice and creaminess.

To make them, simply mix mashed chickpeas with shredded veggies, buffalo sauce and Greek yogurt, and then wrap it up in a whole-wheat tortilla with sliced avocado. You can make a big batch of these wraps at the start of the week and take them to work or school for a quick and healthy lunch. Serve in a gluten-free tortilla or collard wrap for those looking for a low-carb option.

Not a fan of chickpeas? Sub them for tofu, chicken or canned tuna.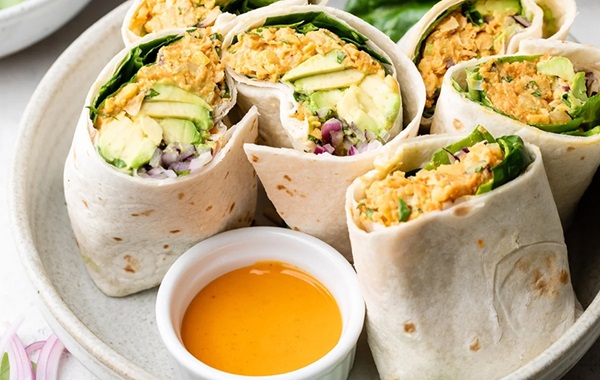 Servings: 3
Calories: 375
Ingredients:
For the filling
1 (15 ounce) can chickpeas, rinsed and drained
1 stalk celery, diced
1/2 cup shredded carrot (from 1 medium carrot)
1/4 cup diced cilantro
2 tablespoons finely diced red onion
For the sauce
¼ cup siggi's plain yogurt
3-4 tablespoons buffalo sauce, depending on your spice level
For the wraps:
3 (8-inch) tortillas of choice (a standard easy to wrap tortilla is fine)
1 avocado, sliced
2-3 cups fresh spinach
Sliced red onion
Instructions:
Add rinsed and drained chickpeas to a large bowl and use a masher or fork to mash most of the chickpeas. Add in diced celery, shredded carrot, cilantro and red onion.
Next add in the yogurt and buffalo sauce and stir to combine and coat all the ingredients. Taste and adjust as necessary. You may want to add salt and/or pepper.
To make the wraps: add a tortilla to a plate and top with 1/3rd of the chickpea salad. Top each with spinach, a few avocado slices and a few red onion slices. Wrap up like a burrito, folding ends in as you go, then cut the wrap in half if desired and enjoy! Salad will stay fresh for 5-7 days in the fridge.