Both healthy and delicious, artichoke, spinach and white bean dip is perfect for mixing up snack time and keeping calories low. This easy to make baked dish can be prepped in 10 minutes and only takes 30 minutes to bake. Serve once cooled with fresh vegetables or these baked taro root chips.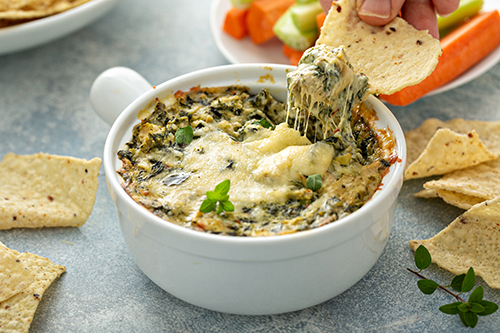 Servings: 8
Calories: 123 kcal
Ingredients:
2 cups artichoke hearts
1 tablespoon black pepper
4 cups chopped spinach
1 teaspoon minced dried thyme
2 cloves garlic, minced
1 tablespoon minced fresh parsley
1 cup cooked white beans
2 tablespoons grated parmesan cheese
1/2 cup reduced-fat sour cream
Directions:
Heat oven to 350 degrees.
Mix all ingredients together.

Put in a glass or ceramic dish and bake for 30 minutes.

Serve with vegetables or baked taro root chips.

This recipe was originally published by Mayo Clinic.