Swim about a mile, bike nearly 25 miles, and run a 10K (6.2 miles). Those are the distances that make up an Olympic distance triathlon and they're Amy Miller's specialty.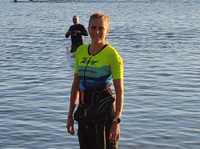 Miller started competing in triathlons when she was 41 years old, "The first triathlon I did, I ended up on the podium in Boulder. To put in the work and then have that result just felt like a huge achievement. "
That feeling of achievement, along with competitive drive and wanting to provide a healthy role model for her kids, is what keeps her going and has led to her success.
In 2019 Miller earned All American Athlete status from USA Triathlon by finishing her races in the top 10 percent of her age group in the nation. That status also qualified her to race at Age Group Nationals where she then qualified to race as a member of Team USA in the World Triathlon Championship Series. Unfortunately, that was cancelled due to the COVID-19 pandemic.
To keep her performing her best, Miller turns to the team at the CU Sports Medicine and Performance Center, which includes physical therapist Natalie Markland and sports medicine physician, Dr. Rachel Brakke Holman.
"Periodically she has some musculoskeletal issues that she comes and sees me for. She is out there working really hard and doing things that she wasn't aware she had the talent for until she was in her 40s," said Brakke Holman.
Miller first saw Dr. Brakke Holman for a herniated disc in 2016, and then again for injuries after one of her races, "I had some injuries that flared up during my last race in fall of 2019 that resulted in a genetic hip impingement that I didn't know that I had. She was able to recognize that and diagnose that for me. From there I was able to seek treatment, get the surgery that I needed to have done, and then the PT at CU Sports Med has been phenomenal in my recovery."
October is National Physical Therapy Month, a chance to celebrate the profession and all the ways physical therapists and sports medicine physicians help improve lives.
"I feel that as an athlete, especially competitive athlete, you have to do some maintenance. I would say you typically have a chiropractor, you have a PT, you have a sports med doctors on hand if you need them, because you're putting your body through a little bit more than the normal exercising routine would put it through," added Miller.
When to Seek Care From a Sports Medicine Specialist
You don't necessarily have to be a world class athlete. Anyone who exercises or just plays sports on weekends can get an injury and benefit from physical therapy or seeing a sports medicine physician.
If you have an injury or chronic pain, you'll likely see your primary care doctor first. If he or she thinks you need specialized care, you'll likely be referred to a sports medicine doctor who will determine the best treatment for your injury.
Part of that treatment may include physical therapy. Physical therapy is usually most appropriate when you're dealing with an issue that is musculoskeletal (muscles, ligaments, tendons, bones). People tend to seek physical therapy to address pain or a potential injury that's inhibiting their ability to move and exercise normally. Another common reason people head to physical therapy is for rehabilitation after a surgery. Seeing a PT every once in a while can also function like a tune-up for your body and help prevent injuries.
Miller credits the team at the CU Sports Medicine and Performance Center for helping her manage injuries and recover from the hip surgery she had in December 2020.
She just completed in her first triathlon since having her surgery and made the podium, "It honestly is the one I am most proud of in many ways. First race in two years and first race post-surgery. Really shows the amount of work I put into recovery and the care I received from CU Sports Med."
Click/tap here to learn more about the CU Sports Medicine and Performance Center and to find a provider.