This chicken salad recipe from the culinary medicine team ant the
CU Anschutz Health and Wellness Center
mixes sweet, salty, and zesty.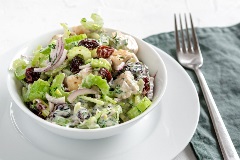 Ingredients
1/4 large avocado
1 6oz container whole fat plain Greek yogurt
2 cup cooked chicken, shredded
1/4 cup shelled unsalted pistachios, chopped
1/4 cup dried cranberries
3 stalks of celery, finely chopped
1 teaspoon poppy seeds (optional)
1 tablespoon fresh lemon juice
salt and pepper
Directions
1. In a small bowl, mash the avocado and combine with Greek yogurt.
2. In a large bowl, mix chicken, pistachios, cranberries, and parsley.
3. Add yogurt mixture and stir to coat.
4. Add poppy seeds and fresh lemon juice. Add salt and pepper to taste.
5. Spoon onto bread, top with baby greens. Enjoy!

This recipe is curated by the culinary medicine team at the CU Anschutz Health and Wellness Center. Find more healthy recipes here, and join them Tuesday evenings for their virtual Culinary Medicine Cooking Classes.