Growing up, Douglas "Bucky" Dilts was all too familiar with the dangers of cancer. "My mother ran a cancer tumor registry at St Joseph's Hospital in Atlanta, Georgia for over 25 years. She was always telling us about different types of cancer, so cancer was always at the forefront."
Prostate cancer became something he often discussed with his father. Bucky's father and uncle were diagnosed after the age of 50.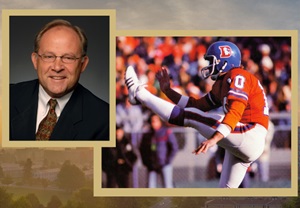 Bucky Dilts, a former Broncos' punter, played during the 1977 and 1978 seasons. His career led him to play at Super Bowl XII against the Dallas Cowboys in 1977. As a Denver Bronco Alumnus, he now wants to use his position in the community to advocate for men's health.
Bucky was diagnosed with prostate cancer at the age of 55, and now advocates for prevention and early detection.
"I have seen repeatedly how others use my openness to privately discuss the topic of prostate cancer with me," said Bucky.
He discovered that many of his peers associated prostate cancer with anonymity due to the physical, especially sexual health implications from treatment.

According to the American Cancer Society, second to lung cancer, prostate cancer is the most common cancer among men and can often be treated successfully. Early diagnosis is key in successfully treating of the cancer and minimizing the side effects associated with current treatment options.


The kick-off to Bucky's cancer journey
In 2009, Bucky began taking preventative measures by receiving the prostate-specific antigen (PSA) test from his primary care physician. They discovered his PSA level was 5ng/mL, a level that indicates more testing is needed per many national guidelines. After receiving a prostate biopsy from his local community hospital, he was encouraged to look at all options before deciding on his treatment course.
He researched multiple urology practices before deciding on the Tony Grampsas Urologic Cancer Care Clinic at University of Colorado Hospital, one of CU Medicine's partner hospitals.

Bucky underwent a radical prostatectomy in February of 2010 performed by past faculty member of the CU School of Medicine, E. David Crawford, MD. "I said, I'm going to go where there is the most experience and who's done the most surgeries. I was glad that I did because it really worked out for me" said Dilts.
"Bucky has done quite well after his surgery. He lives a full life and I'm glad he's used the experience to advocate for men's health," said CU Medicine physician Dr. Paul Maroni, a urologic oncologist at CU Medicine Urologic Oncology in Highlands Ranch. He's also an associate professor in the Department of Surgery, Urology Division, program director of the Urologic Cancer Care Center and CU Cancer Center Member.
Advocacy aimed at informed decision-making and open conversations
Bucky's experience navigating his treatment options and post treatment care taught him many important lessons he wants to share:
Talk to your doctor about screening
Bucky's attributes his successful cancer journey to his father. "He told me I have to get a blood test around the age of 50."
Following his father's advice, Bucky was able to find that his abnormal results led to a diagnosis before the onset of symptoms. It becomes increasingly important to discuss your family history and risk factors with your health care providers.
Current recommendations from the American Cancer Society states that prostate cancer screening options should be discussed:
At the age of 50 – Average risk for men with at least 10 more years of life expectancy.
At the age 45 – High risk for African Americans and men who have a first-degree family member diagnosed at 65 or younger.
At the age of 40 - Higher risk for men with multiple first-degree family members diagnosed at 65 or younger.
Be your own advocate
Bucky would like to stress the importance of becoming your own healthcare advocate. Eliminating fear and confusion with a new cancer diagnosis can help lead to a more informed decision-making process with health care providers. Bucky wants to support men in finding the courage to use research as a tool in fighting the cancer head-on, "and then you're dealing with it; you're not sitting there thinking 'what if'." Knowledge is power. Once Bucky had researched his options, he felt more empowered to deal with the road ahead.
As prostate cancer research continues to advance diagnostic tools, treatment options, and clinical trials, it becomes important to remain up to date on these developments. It is important to factor in the risks and benefits of each treatment approach with your healthcare providers.
Talk to your peers
Bucky spoke with a colleague back in 2009 when he was first diagnosed that led him to seek care at the Tony Grampsas Urologic Cancer Care Clinic. "It was nice to know someone else had a good experience." It put his mind at ease knowing this information before being faced with the decision of treatment.
Since being diagnosed, Bucky has noticed his peers being discreet when talking about their experiences with prostate cancer. "I'm more interested in getting people exposed to some of the things that are out there to alleviate some of the fear of the disease and fear of treatment."
Continuing his support in the community
Although prostate cancer remains a common diagnosis among men, Bucky wants to increase the understanding that it can be treated successfully. Early diagnosis offers the best chance at a successful treatment.
Bucky's personal and family experience coupled with his Broncos career has given him the unique motivation to help his community here in Colorado. He has high hopes with increasing prostate cancer awareness and sees a future where it is in the likes of breast cancer awareness.
"There is not a very visible message for men to be informed about prostate cancer. We have to get the message physically in our communities' hands." He wants the topic of prostate cancer to come out of hiding so men can have an open conversation saying, "Let's grab a beer and talk."
Make an appointment with CU Medicine Urology - South Denver to discuss your prostate cancer screening options.